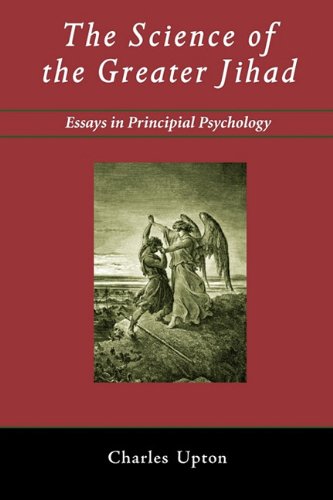 This is a review of a book I think is insightful, and valuable, but that doesn't yet seem to have caught on with many readers. Charles Upton's 'The Science of the Greater Jihad: Essays in Principial Psychology.'  I titled my Amazon review 'Beyond transpersonal psychology, towards principial psychology. Exploring a science of the self and psyche, based on metaphysics,'  because in a real sense that's exactly what this book is about.
Charles Upton's 'Science of the Greater Jihad,' seems to be an overlooked or neglected gem in today's metaphysical and spiritual scene. But it deserves to be read more widely.
I found the book a rare pleasure on two fronts; aesthetically, and intellectually. Aesthetically it's simply a lovely book. The book cover design, with its theme of spiritual combat, is marked by an elegant simplicity. The physical finish Sophia Perennis chose was lovely in a tactile sense. The book cover has a matte, satin like finish that simply feels better than standard glossy book finishes. All of this, however, is trite of me.
Where Upton's work really shines is in his treatment of ideas.
This is, foremost, a book about the notion of a operative Sacred Psychology; a science of knowing the self, and of the path that leads from self-transcendence to self-knowledge. In a sense it covers the idea of an inner and spiritual warfare, but it goes much further. It's informed by Upton's perspective, as long-time seeker on the Sufi path, as well as a past (but increasingly critical) engagement with the Traditionalist branch of the Perennial Philosophers, and is also coloured by his lifelong work as a poet and practitioner – in a sense – of mythopoeia, and an active yet critical engagement with various contemporary schools of metaphysics.
The book covers grounds from Psychotherapy and Exorcism, to a deeply informed and compassionate critique of Carl Jung, to the place of acesis and struggle, love, and knowledge, in the spiritual path. He covers the psychological aspects of traditional alchemy, examines the notion of evil itself and moral privation from the perspective of gnosis, and relates all of these themes and more to a lucid discussion of a true Spiritual Psychology, a Science of the psyche, a science of the Self, and of the many traps it faces in seeking out a spiritual path.
I think this book it should be necessary reading for anyone whether from a Christian, Muslim, Jewish, or non-Abrahamic Faith background, who is interested in personal struggle to find meaning on the spiritual path. The readers who may feel the most challenged by Upton's discussions may be adherents of transpersonal or Jungian psychology, or readers coming from the perspective of contemporary new spiritual and metaphysical movements, broadly speaking the New Age. It is these readers whom I would encourage to give the book a fair reading, to at least consider Upton's words.
Words have emotional and intellectual resonances, shades of meaning, power. The word "Jihad" simply has immensely negative connotation in contemporary Western Societies. I think the choice of the word for this book was apt, not in spite of, but because of its semantic But the doctrine of the "Greater Jihad" in traditional Islamic Esotericism and Spirituality, and even in conventional and normative Shia and Sunni Traditional Islam (outside of the 'extremist' non-Salafist/non-Wahhabi streams financed by Gulf Petro-Dollars) concerns inward combat of the self against the inner forces that drag it into the mud of bestial and gross negative tendencies. It has a lot in common with Orthodox Christian (and Catholic to a degree) understandings of Spiritual Warfare.
But where Upton goes from that is territory little examined. But where Upton goes from that is territory little examined. The notion of 'Spiritual Warfare' has been covered excessively by many authors of many faith and religious varieties. What Upton tries to do is go beyond the notion of a transpersonal psychology, towards a truly principial psychology, of which Spiritual Warfare, the "Greater Jihad" in Islamic terms, is understood in its place in a wider context.
The artwork on the book cover reflects this, because on the surface it calls to mind distinctly Christian notions of wrestling with the passions, married to the title itself, calling to mind a "Science" and the Islamic notion of the "Greater Jihad."
I think the book should be read by anyone with an interest in psychology, spirituality, metaphysics, or religion.
More on Charles Upton, his work and writings, can be found at charles-upton.com , and the publisher, www.sophiaperennis.com.